The About Face Workshop is a perfect option for your group, organization or corporate event.
Why book another paint night when you can get the girls together to learn new skills that you can use every single day. There are a limited number of spaces you can stash those canvases that you have no intention of letting anyone see.
Instead, why not learn how to properly apply makeup? The wine and snacks can still flow and laughter is guaranteed. But instead of leaving with a token you'd rather forget, you'll leave the About Face workshop with a professional makeup artist's tips and tricks, plus newfound confidence that you can look your best while staying true to who you are.
Private parties for all occasions
Whether it's for a date night, girls' night out, bridal shower, bachelorette party, worporate team building event, birthday party, teen prom party or anniversary, the About Face Workshop... (insert more here.)
Dance crews and Cheer teams have had makeup workshops for the performers and moms so everyone looks consistent on stage.
Office leaders have hosted a lunchtime or happy hour workshop to show appreciation to their staff.
Parent teacher Associations (PTAs) have hosted nights for their members and as a holiday or end of year gift to teachers and staff.
Spas and Fitness Studios have hosted workshops and invited their clients as a way of saying "thank you" for their continued business.
Discover a handful of products you should use to even out your skin tone, emphasize the eyes, brighten your complexion, and LOOK LIKE THE BEST VERSION OF YOURSELF.
Office lighting can be harsh and corporate bathrooms are no help. Learn to apply makeup so it lasts beyond 9-5 and gives you life in an environment that can make you look washed out.
Simple Eyebrows, Lashes and Liner
Draw attention to the eyes without shadow, discover your most flattering brow shape, learn how to apply liner that lasts all day and how to make the most of your natural lashes.
Special Occasion Makeup Made Easy
Learn how to turn your day look to night in just a few simple steps. Find out how to do a smoky eye that looks sexy not messy.
Makeup Mistakes and Solutions
Too heavy handed with your blush? Did your mascara transfer to your eyelids and "ruin" your shadow? Become a pro on fixing these common issues without having to start over.
This workshop spotlights the essential brushes you need to achieve your everyday and special occasion looks. Guests will also learn makeup secrets of celebrities.
Like Mother/Like Daughter
Does your daughter steal all your makeup? Do you wish you could look as young as her? Learn trends that work for both of you.
I May Not Feel Well but I Look GREAT
Perfect for the woman who has health issues, hair (brow/lash) loss, or would like to learn how to brighten up their complexion and to look less tired.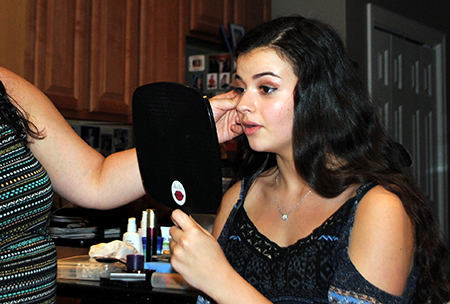 Let's address those makeup application flaws before they become bad habits. Learn age appropriate application tips to take you from movies with your friends to prom.
On-Camera Makeup Application
Learn tricks to look your best on camera like how to emphasize the eyes, combat shine, product recommendations and HD tips included.
Work with me to make a custom lesson plan appropriate for your group!