Discover a handful of products you should use to even out your skin tone, emphasize the eyes, brighten your complexion, and LOOK LIKE THE BEST VERSION OF YOURSELF.
Office lighting can be harsh and corporate bathrooms are no help. Learn to apply makeup so it lasts beyond 9-5 and gives you life in an environment that can make you look washed out.
Simple Eyebrows, Lashes and Liner
Draw attention to the eyes without shadow, discover your most flattering brow shape, learn how to apply liner that lasts all day and how to make the most of your natural lashes.
Special Occasion Makeup Made Easy
Learn how to turn your day look to night in just a few simple steps. Find out how to do a smoky eye that looks sexy not messy.
Makeup Mistakes and Solutions
Too heavy handed with your blush? Did your mascara transfer to your eyelids and "ruin" your shadow? Become a pro on fixing these common issues without having to start over.
This workshop spotlights the essential brushes you need to achieve your everyday and special occasion looks. Guests will also learn makeup secrets of celebrities.
Like Mother/Like Daughter
Does your daughter steal all your makeup? Do you wish you could look as young as her? Learn trends that work for both of you.
I May Not Feel Well but I Look GREAT
Perfect for the woman who has health issues, hair (brow/lash) loss, or would like to learn how to brighten up their complexion and to look less tired.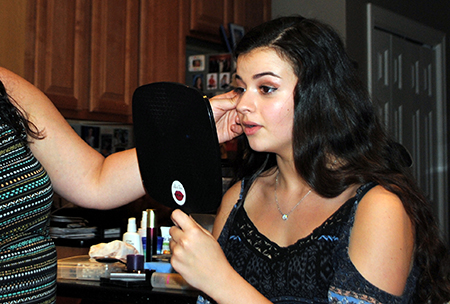 Let's address those makeup application flaws before they become bad habits. Learn age appropriate application tips to take you from movies with your friends to prom.
On-Camera Makeup Application
Learn tricks to look your best on camera like how to emphasize the eyes, combat shine, product recommendations and HD tips included.
Work with me to make a custom lesson plan appropriate for your group!